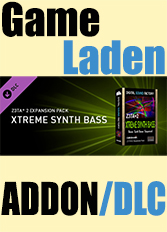 Z3TA+ 2 - DSF Xtreme Synth Bass Expansion Pack (PC)
Verfügbarkeit

Nicht vorrättig
Expansion Pack for Z3TA+ 2. Requires Z3TA+ 2 which is available separately.

Digital Sound Factory Z3TA+2 Xtreme Synth Bass finds the bottom and delivers a great set of extremely unique bass sounds. Xtreme Basses are shaped for harmonic adventure, Power Basses explode with punch, and Mello Basses are primed with smoothness. Z3TA+2's exciting wave shaping control will modulate these waveforms to unexplored territories. LFO's and effects lock to MIDI clock creating motion through rhythmic synchronization.

Xtreme Synth Bass includes 200 exciting programs and new waveforms. Categories include Synth Basses, Power Basses, Mello Basses, and Sequences.