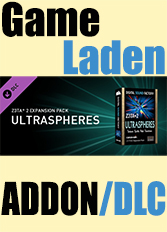 Z3TA+ 2 - DSF Ultraspheres Expansion Pack (PC)
Expansion Pack for Z3TA+ 2. Requires Z3TA+ 2 which is available separately.

Digital Sound Factory Z3TA+2 Ultraspheres fills the audio spectrum with massive cinematic textures and waveforms that are twisted with dynamic wave shaping control. These sounds are thick and edgy, and are not only the icing on the cake, but the foundation for prolonged creativity and imagination. Exciting lush pads and motion transitions will fill your tracks with waveform harmonics only possible with the Z3TA+2 synthesizer engine. LFO's and effects lock to MIDI clock creating motion through rhythmic synchronization.

Ultraspheres includes 200 exciting programs and new waveforms. Sound categories include Ultraspheres, Ultra Pads, Transitions, and Sequences.