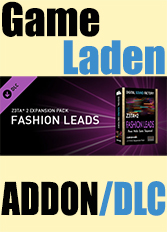 Z3TA+ 2 - DSF Fashion Leads Expansion Pack (PC)
Expansion Pack for Z3TA+ 2. Requires Z3TA+ 2 which is available separately.

Digital Sound Factory Z3TA+2 Fashion Leads deliver the cutting edge synth lead sounds that will drive your music forward. Fashion your tracks with the latest modern sonic treads. Z3TA+2's exotic programming combined with powerful synthesizer waveforms cut through the mix. Harmonics are dynamically shaped and deliver incredible top end sounds. LFO's and effects lock to MIDI clock creating motion through rhythmic synchronization.

Fashion Leads includes 170 exciting programs and new waveforms. Categories include Fashion Leads, Power Leads, Mello Leads, and Sequences.