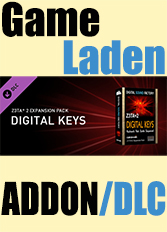 Z3TA+ 2 - DSF Digital Keys Expansion Pack (PC)
Expansion Pack for Z3TA+ 2. Requires Z3TA+ 2 which is available separately.

Digital Sound Factory Z3TA+2 Digital Keys feature modern keyboard tones and textures of the future that will push your tracks out in front of the others. Classic waveforms are shaped using the powerful modulation matrix while envelopes and filters provide the ultimate control of expressiveness and dynamics. LFO's and effects lock to MIDI clock creating motion through rhythmic synchronization. Sequence patterns can easily be integrated with existing tracks and will expand your imagination and music.

Digital Keys includes 200 exciting programs and new waveforms. Categories include Keyboards, Pads, Synths, and Sequences.