Winter Voices Episode 6: Falls (PC)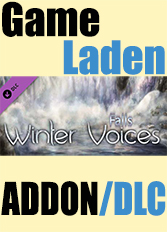 The sun and the mist...
You have reached the town, the first real town-and which town. Here your true voyage will start-here your road to the bay of sapphire will truly begin. There are so many things to prepare, so many things to accomplish before you can leave the mist. Doors are open, so close to the rumbling water. What and who will you choose? What will your life be, where do you want to go and how do you want to live? Questions and answers-and yet more questions. This is how the first part of your voyage ends.
New Features and Content
Episode 6 is humid. Water, ships, fog... Sounds of the cities at night.

Discover the port of Longmorn, one of the biggest cities in the Three River Kingdom.

New battles mechanics - What would you do if you could walk on some tiles but not casting abilities through them ? What would you do if you had limited time to play your turn ? If ennemies or allies had increased range every time they cast ? If your answer to a question could change the whole turn of a battle ?

Lots of lore ! There's a lot of people in Longmorn, and they are chatting... You might get a glimpse of how this kingdom works.

Discover the End and the Epilogue of the first Season of Winter Voices !