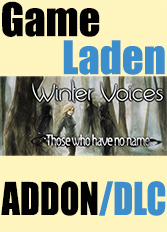 Winter Voices Episode 1: Those who have no name (PC)
Verfügbarkeit

Nicht vorrättig
It's now time for a long journey, on a snowy trail, to the distant capital, from shelter to shelter. Travelling in the snow is an ordeal and strangers, tramps or travelers also caught up in this unexpected winter now replace the familiar faces of your childhood village. Haunted by ghosts in your past, to avoid giving up on the voyage and going back, you must find the courage to face your fears.
New features & content:
New battle mechanics, new ennemies, new maps to explore, new soundtracks !

The snowflake grew ! Twice as much skills to chose, up to 120 different skills !

The sleep & travel system... To travel, you need to sleep... But with sleeping come unpleasant things...

The beginning of a long travel, which might end up in unexpected places...