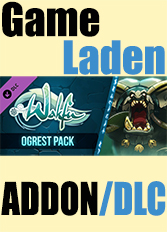 WAKFU - Ogrest Pack (PC)
Be ready to face the World of Twelve with exclusive and powerful items!

* Be careful, this DLC pack can be activated only for the following game servers : Remington, Nox, Dathura, Amara, Elbor, Efrim.

The Ogrest Pack includes:

360 days of Booster benefits
− +30% XP points in combat and quests
− +10% chance to drop items at the end of combats
− +30% Kamas at the end of the combat
− Exclusive early access to latest areas and content
− Secondary characters get an XP bonus according to main character level
− Fill your health with one click
− Vote for governor's elections
This Booster pack will only be available for the characters on the server you'll choose after redeeming the pack code.

25000 Ogrines
− Ogrines can be used in the Boutique to get items, services and Booster Packs.

Phoenix Pet
− This powerful gold pet gives you +60 HP and +30% Damage at level 50.

Protoflex Sidekick
− The first thing you will notice with the Protoflex is that it never backs down.
− If you send him on an enemy, he will make porridge out of him! Its particularity? Two elements combined together 50% earth, 50% fire...

Krosmoglob Sidekick
− This technomagical orb will surprise your opponents by its shape, its movements and attacks. He also proves that the Sidekicks are not necessarily humanoid...
− The Krosmoglob is your dual element Sidekick, and he is also the greatest of all Air/Water!

Scroll of Absolution
− Redistributes your stats and specialties points, as well as your spells experience. Very useful if you want to adapt your strategy.

Vital Energy Cocktail
− Gives you back all your Vitality at the end of the next 5 fights.

Pet XP Boost
− Gives 2 more levels to your pet

White Sadida Bag
− 20 slots inventory bag

Mystery Box Costume
− What costume will you get in this mystery box?

Jade Dynast Costume
− This splendid animated costume will make you look classy.

Mount : Drago-Steed of Range
− This petsmount can increase (once it reaches level 50) your damage range from 40% and your movement speed from 50%.

Obsidian Harness
− This very specific harness will make your mount even more impressive!

4 STEAM Exclusive cosmetic items
− Adal costume (covers your equipment without losing your stats)
− Steam Haven-Bag Kit (external appearance of your housing bag)
− Steam Trophy (decoration for your Haven-Bag)
− Steam-Powered Adventurer Title

Brandish Your Big Sword
− You'll have the chance to show your huge weapon to those around you!

Foggernaut Bedroom Set
− 10 decoration items based on the Foggernaut class.
How to redeem:
To get all the content of your Ogrest Pack once you've purchased it with your Steam Wallet:
- Enter your 15 characters code on the WAKFU website! www.wakfu.com
- Once you have entered your code, select the server on which you want to credit the Booster days. IMPORTANT: if you do not choose a server, you won't get anything. The code remains valid until you choose your server.
- Then, you just have to confirm at the bottom of the redeem page.
- Your Ogrines will be automatically credited to your account, the Booster days to your server and you can collect all yours items directly ingame in the Gift Interface.