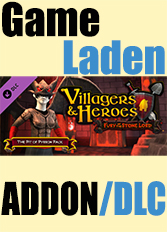 Villagers and Heroes: The Pit of Pyrron Pack (PC)
The Pit of Pyrron pack includes all four color variations of the Pyrron Gargoyle outfit plus some additional goodies.
Enter the gates of Pyrron, the realm of the infamous Stone Lord. But are you a friend or a foe to the heroes of the Seven Realms? Shroud yourself in the guise of one of Lord Pyrrus' very own gargoyles, with an intimidating wing span and a frightening visage. Each outfit comes with a complete costume set (winged hat, outfit, gloves, and boots) as well as a Gnogmentation appearance pack that unlocks the appearance on your entire account to be used whenever you choose by any of your characters.
Pack Contents
This pack contains the following costume sets:
Red Winged Gargoyle Outfit + Appearance pack

Blue Winged Gargoyle Outfit + Appearance pack

Purple Winged Gargoyle Outfit + Appearance pack

Green Winged Gargoyle Outfit + Appearance pack
Additionally, this pack contains the following consumable items:
5x Extra Sockets: to make the gear needed to brave Pyrron

5x Full Heal potions: to get you out of those tricky situations

2x Instant Resurrects: in case you don't make it out of one or two of those tricky situations