Villagers and Heroes: Sands of the Equinox (PC)
Verfügbarkeit

verfügbar

Lieferzeit

sofort

Releasedatum

24.09.2014
Plattform

PC

Version

Global / RU VPN Version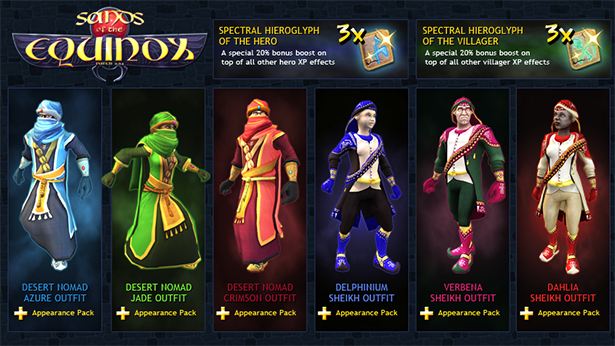 The Sands of the Equinox DLC includes two different outfits, each with three color variations!
Explore the Oases of Anuk'Amon, the secret vale of sands, shrouded in mystery and time. Once a year, during the fall equinox, travelers are able to make their way into the sandy dunes and deep oases of Anuk'Amon. The land is covered in the curses of the Pharaohs and Caliphs, and brave adventurers are called far and wide.
Decorate yourself in the rich royal colors of the Sheikh of the sands, or in the Desert Nomad's mysterious attire. Each outfit comes with a complete costume set (hat, outfit, gloves, and boots) as well as a Gnogmentation appearance pack that unlocks the appearance on your entire account to be used whenever you choose by any of your characters.
Pack Contents
This pack contains the following costume sets:
Delphinium Sheikh's Outfit + Appearance pack

Verbena Sheikh's Outfit Set + Appearance pack

Dahlia Sheikh's Outfit Set + Appearance pack

Desert Nomad's Azure Outfit Set + Appearance pack

Desert Nomad's Jade Outfit Set + Appearance pack

Desert Nomad's Crimson Outfit Set + Appearance pack
Additionally, this pack contains the following consumable items:
3x Spectral Hieroglyph of the Hero: A special bonus boost in experience that gives a 20% boost on top of all other hero XP effects

3x Spectral Hieroglyph of the Villager: A special bonus boost in experience that gives a 20% boost on top of all other villager XP effects
Mehr Details einblenden