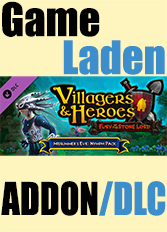 Villagers and Heroes: Midsummer's Eve Nymph Pack (PC)
The Midsummer's Eve Nymph Pack includes all five color variations of the Nymph outfit plus some additional goodies.
Welcome to the land of the Fae, where mysteries abound and peril is ever near. Clad yourself in the elements and become one with the Nymph, elemental creatures of the Seven Realms. Each outfit set contains one complete costume (hat, outfit, gloves, and boots) as well as a Gnogmentation appearance pack that unlocks the appearances on your entire account to be used whenever you choose by any of your characters.
Pack Contents
This pack contains the following costume sets:
Shadow Nymph Outfit Set – The shadow nymph dwell in the dark places of the earth, drawn to powerful and deep magic's, and allied with the Sidhe. Will you let the shadow control you?

Light Nymph Outfit Set – The light nymph enjoy the rays of the sun and the flicker of the light, and are often seen frolicking with the Sylph.

Fire Nymph Outfit Set – The fire nymph engulf all they see in flame and scorching blasts and are an honored guest at the table of the Pixi.

Water Nymph Outfit Set – The water nymph, living in streams and splashing in the ocean waves, these creatures often call Naiads friend.

Poison Nymph Outfit Set – The poison nymph, close friend of the Sprites, these creatures revel in the toxins of the earth, and bubbling noxious vapors found in the local fauna of wherever they dwell.
Additionally, this pack contains the following consumable items:
4x Enchanted Fairy Dust – a 20% boost to Hero XP gains, the effect from this fairy dust stacks with normal Hero XP potions.

4x Enchanted Star Dust – a 20% boost to Villager XP gains, the effect from this star dust stacks with normal Villager XP potions.

4x Enchanted Solstice Spirits – a 5% boost to damage, the effect from this bottle of Solstice Spirits stacks with normal Damage Boost potions