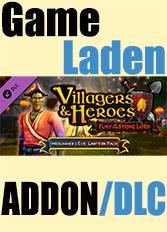 Villagers and Heroes: Midsummer's Eve Lantern Pack (PC)
The Midsummer's Eve Lantern Pack includes all three color variations of the Lantern Costume.
Welcome to the land of the fae, where mysteries abound and peril is ever near. Clad yourself in the powers of the setting sun and unleash the power of Midsummer's Eve. Each outfit set contains one complete costume (hat, outfit, gloves, and boots) as well as a Gnogmentation appearance pack that unlocks the appearances on your entire account to be used whenever you choose by any of your characters.
Pack Contents
This pack contains the following costume sets:
Midsummer Midnight Outfit – Become one with the night and unleash your powers at the strike of twelve.

Midsummer Eclipse Outfit – Revel in the eclipse, and the power of the moon.

Midsummer Dusk Outfit – Usher in the night and beckon the powers within.
Additionally, this pack contains the following consumable items:
4x Enchanted Fairy Dust – a 20% boost to Hero XP gains, the effect from this fairy dust stacks with normal Hero XP potions.

4x Enchanted Star Dust – a 20% boost to Villager XP gains, the effect from this star dust stacks with normal Villager XP potions.

4x Enchanted Solstice Spirits – a 5% boost to damage, the effect from this bottle of Solstice Spirits stacks with normal Damage Boost potions