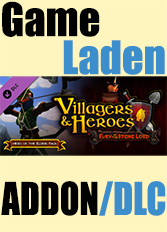 Villagers and Heroes: Hero of the Elders Pack (PC)
Join with the Elders, the progenitors of the four classes, and join the battle against the evil lord Mallok and his children of calamity. The Hero of the Elders pack is just what any hero needs join forces with Calypso, Marat, Celestia, and Voltan and enter into the fray well equipped and prepared for battle.
This pack works alongside the Hero of Stormhold pack! You may purchase both and still gain full use out of both packs!
Pack Contents
Exclusive Starter gear: Start your journey off right with a set of exclusive gear that is not only powerful, but stylish as well. Contains a set of gear for whichever class you choose:


Defender Warrior: Plate armor and a sturdy shield help protect you against the all the evil of the seven realms.

Forest Hunter: Using sinister poisons and venom laced arrows, take your enemies down swiftly from the shadows.

Fire Wizard: Summon the powers of ember and flame, engulfing your enemies in heat so brilliant it melts even the hardest of steel.

Dark Shadow Priest: Conjure the shadow magic's of the world, wielding the darkness as a mighty weapon.

A Cosmetic Appearance Pack: Matching your exclusive starting gear, this appearance pack works alongside the gnomish Gnogmentation workshops. Permanently unlock the appearance to fight evil in style, no matter your level or gear.

Extra bag space: Permanently unlock an extra 30 slots of inventory space for your entire account, including current and future characters.

Experience Boost: Boost your hero's rate of experience by an extra 50% for an entire month!

A generous assortment of various items that will help you along your journey:


10 Full Health Potions

10 Full Spirit Potions

5 Instant Resurrects

5 Gnogmenting Sockets