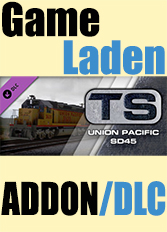 Union Pacific SD45 Add-On (PC)
The EMD SD45 was one of the first standard North American diesel locomotives to use a 20 cylinder diesel engine, and now you can drive this freighter in Train Simulator.
The SD45 shared the same common frame as its forerunner, the SD40, but featured a number of unique characteristics, including a flared radiator and a 20 cylinder engine that produced 3,600hp. Such was the popularity of the SD45s, more than 1,200 units were built between 1965 and 1971 for more than 25 railroads, with many more companies acquiring second hand units. Union Pacific purchased 50 units, primarily for high-speed freight and intermodal services – such was the gear ratio of the locomotive, the SD45 was capable of 90mph top speeds. Many of the UP SD45s were also put into service on specialist traffic operations, such as wood chip, coal and mineral trains.
The demise of the Union Pacific SD45 began in the early 1980s as traffic slowed on the network. High fuel consumption and excessive engine wear made the Class an early candidate for storage, and thus all were retired by 1987. However, some SD45s still exist as preserved examples whilst others have been scrapped or dismantled for spare parts.
The Union Pacific SD45 for Train Simulator, developed by DigitalTrainModel, comes in the UP's famous 'Armour Yellow' livery, with features including opening cab doors and windows, accurate sounds, extensive locomotive lighting and power selector. Four scenarios for the Sherman Hill (available separately) are also included.
The
Sherman Hill Add-On
(available separately) is required to play the scenarios included with this add-on.
Scenarios
Five exciting scenarios for the Sherman Hill (available on Steam):
EMD SD45 Intro

Emergency to Sherman

Express to Sunrise

Pushing and Pulling

Gas Inlet and Outlet
More scenarios are available on Steam Workshop online and in-game. Train Simulator's Steam Workshop scenarios are free and easy to download, adding many more hours of exciting gameplay. With scenarios being added daily, why don't you check it out now!
Click here for Steam Workshop scenarios.
Key Features
EMD SD45 in Union Pacific 'Armour Yellow' livery

Fully detailed cab interior with full lighting, including instrument, numberboard and platform lights, and opening cab doors and windows

Accurate locomotive sounds

Freight wagons, including UP Airslide Hopper, UP 50ft Boxcar ComboDoor, UP 52ft Gondola with loads, UP 100t Hopper and UP CA-4 Caboose

Scenarios for Sherman Hill

Quick Drive compatible