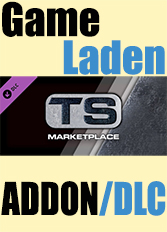 Union Pacific FEF-3 Overland (PC)
*NOTE* This pack is available in the in-game store under the Marketplace tab. You are strongly recommended to find the product there and make your purchase from within the game.

In order to be able to use this add-on livery product, you MUST first own the Union Pacific FEF-3 Loco Add-On. If you check in the in-game store it will verify if you own it before you purchase.

From 1946, Union Pacific's FEF-3s were given a two-tone grey livery designed to match the livery applied at that time to the cars in their named passenger trains, including the Overland Limited. The Overland Limited (often called simply "Overland") ran between Chicago and the San Francisco Bay Area. From June 1949, the silver grey stripes, lettering and numbers were repainted in yellow, to match the newer livery being applied to the Overland streamliner cars. Both liveries are recreated in this Marketplace pack.