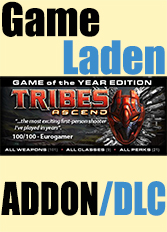 Tribes: Ascend - Game of the Year Edition (PC)
"Jeder Shooter sollte Jetpacks haben!"
Tribes: Ascend ist der weltweit schnellste Shooter – ein Online-Multiplayer-FPS mit Jetpacks, Skiing, Fahrzeugen und mehreren Klassen.
Mit Tribes: Ascend – Game of the Year Edition, erleben Sie den meist gefeierten Multiplayer-Shooter des Jahres 2012 wie nie zuvor. Diese Edition enthält Waffen DLC's der letzten zehn Erweiterungen sowie neue vorgestellte Inhalte.
Tribes: Ascend – Game of the Year entsperrt alle Waffen und Perks aus folgenden Updates: Cloak & Dagger Update, Raid & Pillage Update, Tartarus Update, Staying Alive Update, Accelerate Update, Stonehenge Update, Twinfusor Update, Bliz Update, Marksman Update, Revolution Update, plus die neue Shocklance.
Mit einem Kauf schalten Sie alle Waffen im Spiel (über 110), alle Klassen (9), alle Perks (21) und die neue Shocklance Waffe frei.
Hauptmerkmale:
Skiing: Ein langsamer Soldat ist ein toter Soldat. Mit gedrückter Leertaste entfernen Sie die Reibung und bauen Sie Schwung auf um große Karten zu überqueren, Ziele zur Strecke zu bringen und aus dem Feindesland mit hoher Geschwindigkeit zu flüchten.
Jetpacks: Totale Bewegungsfreiheit und Dog-Fight ähnliche Luftkämpfe.
Klassenbasierter Kampf: Neun Klassen, jede mit einzigartiger Waffen Auswahl und Fähigkeiten.
Steigende Intensität: In jedem Match verdienen Sie Credits für den Abschuss von Feinden oder durch Unterstützung der Team-Ziele. Benutzen Sie diese Credits um die Verteidigung der Basis zu verbessern, Zugang zu Fahrzeugen zu erhalten oder um Taktische Angriffe anzufordern. Je länger Sie spielen, desto chaotischer wird das Match.
Fahrzeuge: Steuern Sie den kräftigen Beowulf Panzer, das schnelle Zweipersonen Grav-Cycle oder den beweglichen, fliegenden Shrike.
Schöne, kolossale Schlachtfelder: Führen Sie Krieg in einer Vielzahl von offenen Umgebungen, einschließlich gefrorenem Ödland, ausufernden Städten und zerklüfteten Bergen.
Kämpfen Sie nicht alleine: die Freundesliste erlaubt eine Verbindung mit anderen und etabliert die Online Vorherrschaft.
Zuschauermodus: der hoch detaillierte Zuschauermodus erlaubt es Ihnen an Ihren Lieblingsspieler heran zu zoomen, Spielerdaten einzusehen und zwischen den Action Hot Spots zu wechseln.