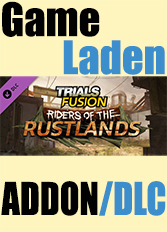 Trials Fusion - Riders of the Rustlands (PC)
Tritt über die Stadtgrenzen mit diesem ersten Inhaltspaket für Trials Fusion: Riders of the Rustlands!

Diese einsamen Menschen leben außerhalb der gehobenen Gesellschaft von Fusion und verfügen nicht über die Annehmlichkeiten wie die Menschen in der Stadt. Vergessen und von den Behörden im Stich gelassen sind sie gezwungen, alles zu nutzen, was sie finden können.

Durch das Fehlen von Gesetz und Ordnung heißt es hier, friss oder stirb. Genieße das Abenteuer noch mehr durch:

- 10 neue Strecken (inklusive sechs klassische Trials-Strecken, zwei neue Supercross-Strecken, einen Technikparcours und eine FMX-Strecke).
- 18 neue Streckenherausforderungen (inklusive geheime Features, versteckte Minispiele und vieles mehr)
- 5 neue Erfolge/Trophäen
- Dutzende neuer Objekte für den Streckeneditor, inklusive gecrashter Fahrzeuge, Lagerhäuser und vielem mehr!