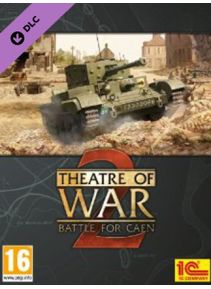 Theatre of War: Battle for Caen DLC (PC)
Theatre of War 2: Battle for Caen ist ein Erweiterungspaket für das von Kritikern gelobte Theatre of War 2: Kursk 1943, einem historischen und taktischen Echtzeit-Strategie Kriegsspiel. In Battle for Caen steuern die Spieler Einheiten der britischen 11th Armored Division während der Operationen Epsom und Goodwood, welche sich zwischen dem 26. Juni und dem 19. Juli, 1944 ereigneten. Machen Sie sich bereit für starken Widerstand von den Truppen der 2, 21, sowie der 1 und 12 SS-Panzer-Division und erleben Sie noch spektakulärere Schlachten mit dutzenden fehlerlos modellierten AFVs und hunderten Soldaten.
Hauptmerkmale:
Bringt den Besitzern von ToW2: Kursk 1943 völlig neue Kriegsschauplätze der West-Front
Neue historische, britische Kampagne "Battle for Caen".
Über 40 neue britische, Wehrmacht- sowie SS-Einheiten und Infanterietruppen wurden der bereits weitreichenden Liste des originalen Kursk 1943 Spiels hinzugefügt. Einschließlich: Daimler Littlejohn, Gepard, Crusader III AA, 3 Zoll Mörser, Achilles, Challenger, Cromwell, Churchill, Sherman Firefly, PaK 43, Tiger B mit Porsche-Geschütz, Pz. III M, Pz. IV H, "A" und "G" Panther.
Acht neue Normandie-Karten sind außerdem im Mehrspielermodus und mit neuen Szenario-Generator spielbar.
Authentische Kennzeichen auf allen Fahrzeugen.
Zahlreiche Ergänzung an britischen und deutschen Infanteriewaffen und Munition, einschließlich PIAT, StG 44, Panzerschreck und Panzerfaust 30.