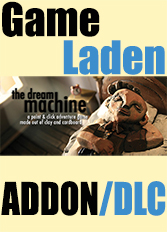 The Dream Machine: Chapter 5 (PC)
The Dream Machine is an award-winning adventure game about dreams and voyeurism. It's built by hand using materials such as clay and cardboard.
In Chapter 5, Victor must gain access to the last two neighbors' dreams and try to stop the dream machine once and for all.
Key Features
World: Explore a creepy apartment complex and uncover the mysteries within. Get to know your neighbors and discover their secrets.

Story: Delve into the minds of strangers and loved ones as you're trying to save them from The Dream Machine.

Graphics: Wander around beautifully detailed environments built using physical clay models and hand-crafted sets.

Puzzles: In order to progress you have to solve puzzles ranging from simple pushovers to fiendish brainteasers.

Music: A haunting original soundtrack weaves through the narrative, emphasizing the surreal atmosphere of the game.