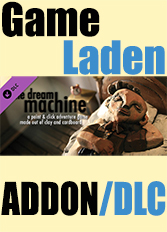 The Dream Machine Chapter 3 (PC)
Im dritten Kapitel von The Dream Machine betritt Victor, in dem Versuch die mysteriöse Traummaschine zu stoppen, die Traumwelt seiner schlafenden Frau, woraufhin er sich plötzlich auf einem Kreuzfahrtschiff wiederfindet, das von zahlreichen Kopien seiner selbst bevölkert wird.
The Dream Machine ist ein preisgekröntes Point-and-Click-Abenteuer, das allein aus Lehm und Pappe besteht.
Hauptmerkmale
Welt: Erforschen Sie einen unheimlichen Wohnungskomplex und decken Sie die in ihm schwelenden Mysterien auf. Lernen Sie Ihre Nachbarn kennen und kommen Sie hinter ihre Geheimnisse.

Geschichte: Versetzen Sie sich in den Geist von Fremden und Geliebten, um sie vor der Traummaschine zu retten.

Grafik: Durchstreifen Sie unglaublich detaillierte Umgebungen, kreiert aus physikalischen Lehm-Modellen und handgefertigten Gegenständen.

Rätsel: Um voranzukommen, müssen Sie Rätsel lösen, die von kinderleicht bis hirnzermaternd reichen.

Musik: Ein unvergesslicher, origineller Soundtrack begleitet Sie durch die Handlung und unterstreicht die surreale Atmosphäre des Spiel.