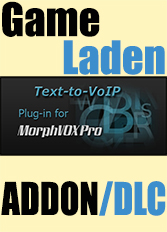 Text-to-VoIP Plugin (PC)
Das Text-To-VoIP Plug-In für MorphVOX Pro erlaubt Ihnen, über das Internet oder Soft-Phone unter Verwendung anpassbarer Text-To-Speech Stimmen zu sprechen. Dieses Plug-In ist für die Leute nützlich, die mit ihrer eigenen Stimme nicht sprechen können, oder eine Textalternative zum Kommunizieren mit der Stimme möchten.

Dieses Plug-In erlaubt es Ihnen Text-Nachrichten an Ihre Freunde über Stimmenclients wie Ventrilo, MSN, Skype, Soft-Phone zu schreiben. Es kann auch mit in-Game Sprachsystemen wie World of Warcraft Voice Chat, Lord of the Rings Online, Counter-Strike, Second Life und mehr verwendet werden.

Durch das schreiben von Nachrichten in einem Textfenster können Sie über den Voice Chat ohne Verwendung Ihrer eigenen Stimme einfach kommunizieren. Das einfach zu verwendende Interface macht es leicht, Nachrichten unter Verwendung von bereits auf dem Computer geladenen Text-To-Speech Stimmen zu senden.

Außerdem arbeitet das Text-To-VoIP Plug-In direkt mit der MorphVOX Pro Stimmenänderungs-Engine. Dies stellt eine Methode für Sie zur Verfügung eine einzelne Text-To-Speech Stimme in Hunderte von verschiedenen Stimmen zu Morphen. Sie können Ihre Text-To-Speech Stimme jünger oder älter, größer oder kleiner klingen lassen, oder verschiedene Digitaleffekte zur originalen Stimme zum Extraspaß hinzufügen.