Terminator Pack (PC)
Verfügbarkeit

verfügbar

Lieferzeit

sofort

Releasedatum

06.11.2014
Plattform

PC

Version

Global / RU VPN Version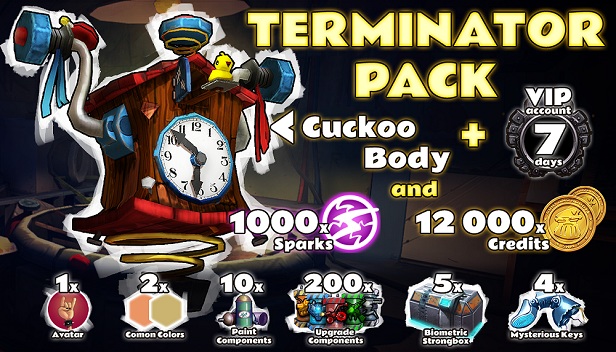 Purchase the
Terminator Pack
of Guns and Robots and join in the action with:
1x Body Note! The Body is available exclusively for buyers of this pack and cannot be purchased in Guns and Robots separately.

1x VIP Account ( 7 Days) Note! Your VIP Account is activated once you purchase the bundle!

1x Avatar

2x Common color and 10 Paint Components

1000 Sparks

12000 Credits

200 Upgrade components

40x Actuators ( Upgrade component for your Chassis)

40x Armor Plates ( Upgrade component for your Body)

40x Armaments ( Upgrade component for your Weapon)

40x CPU Cores ( Upgrade component for your Head)

40x Onboard Integration Modules ( Upgrade component for your Device)

5x Biometric Strongbox with 4x Biometric ID (Cargo opener);
Each crate can drop one of the following: Upgrade components, Device charges, Boosts or an opportunity to get your hands on an extremely rare part.
Guns and Robots is free to play online third person shooter. The game brings robot action with massive customization. Players get cartoony bright 3D graphics in attractive environments and challenge each other in open arenas. Guns and Robots gives fun, entertaining experience with easy to master gameplay and numerous options to experiment robot constructing skills. Play the game for free on
Steam
.
Mehr Details einblenden