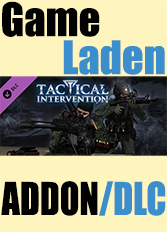 Tactical Intervention - Counter-Terrorist Starter Pack (PC)
Save 60% off regular prices!
The people of the world are counting on you to protect them from the dangers that lurk around every corner! Only by taking advantage of the most hi-tech and powerful weapons can you and your squad combat terrorism effectively. Take this pack and gain access to some of the most potent anti-terrorism gear in the world as well as your own K9 unit – exclusive to this pack! Protect and serve!
Each pack contains the following
permanent
items:
A unique Siberian Husky pet, only available in this DLC!

P90 TR SMG

M4 Kitty Assault Rifle

DEVGRU Helmet

P250 Pistol

Assault II Boots

Ergo I Holster

The DEVGRU Character Model
The ultimate guarantee of civilian safety and surgically precise victories!