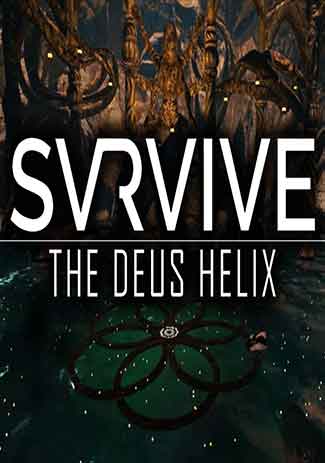 SVRVIVE: The Deus Helix (PC)
SVRVIVE: The Deus Helix kaufen - SVRVIVE: The Deus Helix Key
Hinweis: Benötigt ein VR-Headset. Weitere Informationen können Sie auf der VR-Supportseite finden.
SVRVIVE: The Deus Helix – Spielbeschreibung und Gameplay
"One of the 19 best HTC Vive games of 2017"
- PC Advisor

"Probably the longest game that exists on Vive, you won't be playing this game for only a few minutes. Difficult and engaging!"
- CryMor Gaming

"A totally unique and original concept and the perfect implementation of VR."
- Game Chronicles Magazine

"Okey so this must be the Sussurian world he was talking about... OH MY GOSH! WHAT?!"
- YouTuber Brometheus_Tv

"After playing the demo when it was released, I knew this game could become something really good and I'm glad my intuition didn't let me down"
- Kris.vdv, Steam reviewer

"This was a f*cking great game"
- Twitch streamer ForceKin_Gaming


Welcome to an epic mystery adventure game, inspired by classics such as Myst and Riven. With every mission comes new challenging puzzles, and one world will never be similar to the next.

The story takes you beyond your earthly life through one of the longest VR game experiences to date (average 5 hours, if you're good).

Will you be the one to find the Deus Helix?
---
SVRVIVE: The Deus Helix Download und Installation
Jetzt SVRVIVE: The Deus Helix kaufen und den Key zur Aktivierung bei Steam (pünktlich zum Release) per Email erhalten - günstig, schnell und sicher!
Wir bieten dir auch eine Anleitung zum kostenlosen Download und zur Installation von Steam.
Nach dem Kauf des SVRVIVE: The Deus Helix Key erhältst du von uns alle notwendigen Informationen für den Download zusammen mit dem Key per Email.
---
Systemvoraussetzungen
MINIMUM:
Betriebssystem:

Windows 10

Prozessor:

Intel® i7-4790 or greater

Arbeitsspeicher:

8 GB RAM

Grafik:

NVIDIA Geforce® GTX 980

DirectX:

Version 11

Speicherplatz:

14 GB verfügbarer Speicherplatz

Zusätzliche Anmerkungen:

Recommend installing to SSD for faster performance