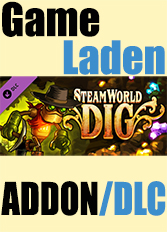 SteamWorld Dig - Soundtrack (PC)
Rootin' tootin'? More like salutin' the sweet tones of lootin' minerals, gold and upgrades in SteamWorld Dig - the award-winning best-selling platform mining adventure game from Image & Form.
The SteamWorld Dig Original Soundtrack contains all nine tracks from the popular indie game – remastered in high-definition for the ultimate listening experience. You'll absolutely dig it!
Composer: H.M. Hammarin
Main theme: Jonas Kjellberg
HD Remastering: Falling Tree
All tracks available in MP3 and FLAC.
Rusty's Overture (Main theme)

Caving In

Tumbleton

Archaea

Old World

Falling Down

Vectron

Showdown

Monument
The files can be found in your Steam directory: [...]\Steam\steamapps\common\SteamWorld Dig\Soundtrack.
You can right-click SteamWorld Dig in your Steam games list, select Properties, select the tab Local Files, and press the button Browse Local Files...