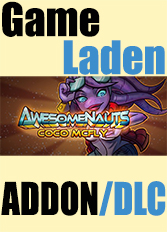 Steamworks: Awesomenauts - Coco McFly (PC)
Coco has accidentally been sent back to the year 2015 by mad scientist monkey Yuri! 2015... when hoverboards had a weirdly nineteen-eighties-like design! Coco McFly must now find a way to go home in the future! Will she ever get back?
This DLC contains a custom skin for Coco in Awesomenauts, and will automatically unlock the character if you have not already done so.