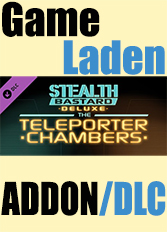 Stealth Bastard Deluxe - The Teleporter Chambers (PC)
Some days, life as a working clone starts to get you down. A daily grind that sometimes quite literally involves the grinding of your limbs and organs between whirring blades can start to feel like a real drag. Faced with a rat race in a maze that contains horrible death instead of tasty cheese, don't you sometimes just wish that you could be… somewhere else?
Well now you can! With this new Stealth Bastard Deluxe level pack, you can be in as many places as you like – simultaneously! Just pick up a teleporter from a handy nearby vending machine and disappear in front of your robotic antagonist's very eyes! Or sensors, or whatever those things have.
This Stealth Bastard Deluxe level pack contains 20 brand new levels that will test your prowess with teleporters. These handheld devices can be placed on any surface to create warp points, helping you to evade the camera's steely glare. But watch out – the enemies in these levels are wise to your game, and they'll be doing everything in their power to snuff out your precious little life…
Key Features:
20 brand new levels featuring teleporter-themed puzzles
Unlocks new features in the level editor
Six new DLC-specific achievements