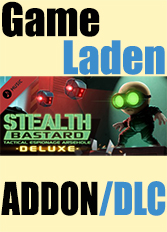 Stealth Bastard Deluxe - Soundtrack (PC)
This is the full soundtrack to fast-paced tactical sneak-'em-up Stealth Bastard Deluxe, composed by Ricky Honmong. This release contains extended versions of all the tracks in the game, plus a few tracks from the original Stealth Bastard prototype thrown in! All 24 tracks are brought to you in high-quality MP3 format.
Add a little frisson of tactical espionage to your life by listening to this album in everyday locations, such as:
Public transport
Swimming pool
Post office
Old people's home
Car wash
Haunted house
Jumble sale
… And many more!
Track List:
Slicker
Cut Throat
Cacitt
Q-Querry
Fulzore
Ether
SE5
G Dope
Clowcarnage
Sickel
Skello
Zeko
The Game
Surefire
Tenzo
Katzzamaa Killer Wacky
Sheston
Wolfen
Sinstar
Ripstar
Chlocks
Party Out
Stemz
Krafter