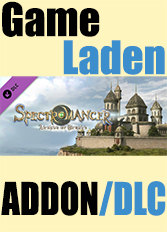 Spectromancer: League of Heroes (PC)
Die Welt von Spectromancer wurde gerade nicht nur gefährlicher, sondern auch sehr viel interessanter! League of Heroes ist die erste Erweiterung des faszinierenden Kartenspiels. Es beinhaltet drei magisch neue Kategorien, die sowohl im Onlinespiel, der Arena (der neue Einzelspielerdmodus) als auch im originalen Feldzug gespielt werden können. Der Sorcerer hat keine Kreaturen in seinem Kartenmix - aber mächtige Zaubersprüche. Zwar verfügt der Beastmaster nicht über diese Zaubersprüche, dafür jedoch Kreaturen, die besondere Fähigkeiten mitbringen. Wesen des Demonologist nehmen nach dem Tod eine andere Gestalt an. Erkunden Sie alle neuen Herausforderungen und Mächte.
Die Erweiterung wurde von Richard Garfield und Alexey Stankevich mitgestaltet, welche Schöpfer bekannter Titel wie Magic: The Gathering's, Astral Tournament und Astral Masters sind. Sie haben Spectromancer noch nicht gespielt? Dann ist jetzt der richtige Zeitpunkt - Enttäuschung ist ausgeschlossen. Oder sind Sie ein verschollener Spieler? Kommen Sie zurück und erforschen alle neuen Herausforderungen und online Arenen, die sich regelmäßig mit neuen Regeln ändern. Sie sind ein aktiver Spieler? Dann müssen Sie League of Heroes jetzt haben und die Macht des Sorcerer, Beastmaster und Demonologist ausprobieren!