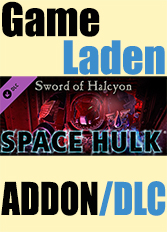 Space Hulk - Sword of Halcyon Campaign (PC)
The Sword of Halcyon

The Space Marine Vessel, The Sword of Halcyon, left the orbit of planet Falkhan and prepared for the journey back to its homeworld. Upon entering the warp The Sword of Halcyon jolted suddenly and came to a halt. Instantly the ship's alarms rang and all aboard prepared for the worst. Reports from the navigator came back that the ship had encountered a warp storm. A giant Space Hulk appeared as the storm came to its climax and a crash was inevitable.

Functioning scanners showed a steady build up of new, alien life signs, Genestealers. The survivors in the rear section of the vessel had no option but to retreat to the escape
capsules. Within an hour and a half of its jettison, the escape pods were picked up by the Imperial battlebarge Mayan. Sergeant Lexon, a survivor from The Sword of Halcyon held an emergency conference with the Blood Angels on board of the Mayan. It was swiftly decided that for the honour of the chapter they must attempt to recapture the ship from the Genestealers. The Blood Angels Terminators prepared for battle, and with grim resolution the order was given to launch boarding torpedoes.

The campaign contains 5 missions from "Sword of Halcyon"

1) Impact
2) Salvage the Bridge
3) Shut Down
4) Purify
5) Inner Sanctum

Time is of the essence in this campaign, which adds a new level of game play to the game. A unique feature also comes with this campaign, "Bulkhead Doors", which enables the terminators to totally shut off certain areas.