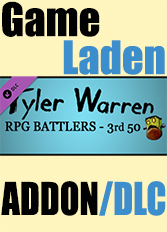 RPG Maker: Tyler Warren's Third 50 Battlers (PC)
Slimes and Dragons! Following the style and charm of his previous battlers, this third pack of 50 by artist Tyler Warren takes it to the next level.
This pack brings to life a fresh new visual dimension for any professional or amateur game creator. Continuing in a style comparable to the immensely popular Dragon Quest (Dragon Warrior) series, this bundle features a healthy array of "Slime Monsters" and a gorgeous variety of powerful Dragons; a must have for any fantasy adventure game.
Features:
50 unique and beautiful battlers

Files are formatted for easy Plug and Play into RPG Maker VX Ace and other RPG Maker battle systems

No need for editing; each battler is compatible with default battle backs or other backgrounds

All 50 battlers are presented in sizes ranging from large to mini; let the slime be the boss with no scaling issues

Battlers also come in recommended sizes (to scale), with a sampling of alternate color options

Style matches previous Tyler Warren battler packs, similar in spirit to the classic RPG characters of Dragon Quest (Dragon Warrior)