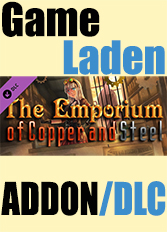 RPG Maker: The Emporium of Copper and Steel (PC)
The Emporium of Copper and Steel features over 30 orchestrated tracks with a distinctive Steampunk/Western sound.
Composer Murray Atkinson brings you any mood you could ask for, from mysterious nocturnes to epic confrontations to old time piano playing right out of a classic saloon. If that wasn't enough, the pack also has over 50 unique sound effects, perfect for puzzles and exploration! Fans of great music, and especially Steampunk, won't find a better accompaniment than this.
Check out other packs created by Murray Atkinson -
Sinister Hollows
and
Classic Fantasy
music packs.
This pack contains:
34 gorgeous orchestrated tracks – over an hour of music!

54 Steampunk sound effects and musical cues.

Themes for every mood – adventure, romance, dread, humor and battle.

.wav, .ogg, and .mp3 formats included.

Royalty free music to use in your commercial and non-commercial RPG/IG Maker projects.