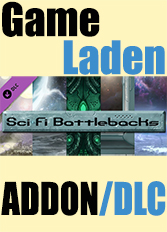 RPG Maker: Sci Fi Battlebacks (PC)
Whether you're fighting off hordes of terrifying aliens or testing your wits against androids with exceptional AI, you'll need a battle background that sets the right mood.
Expertly painted by Michael Galefire, Sci Fi Battlebacks pack includes everything you'll need to make your battles feel even more intense. From star-ship decks to strange alien landscapes, the variety and incredible detailed quality of this pack makes it a certain must-have.

This pack contains:
Masterfully hand-painted backgrounds

19 floor "Battlebacks 1" files

13 wall "Battlebacks 2" files

Mix and match details to create different and unique environments