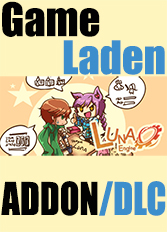 RPG Maker: Luna Engine (PC)
Tired of looking at the same old default battle layout? Want to change elements from the default menus but don't know where to start? The Luna Engine can help you with that!
Luna Engine is a series of scripts created with people with little to no programming knowledge in mind. With the Luna Engine in your arsenal, you will have the freedom to manipulate RPG Maker's default GUIs and modify them according to your own vision! Luna Engine can also be useful for seasoned programmers, providing a solid core base you can build up on.
Compatibility and other Luna Discussions can be found here.
Features:
Easily create new menus using the default windowskin of your game, or import your own graphics for full customization.

Create intricate battle menus to display information how you want to. Little to no scripting knowledge is required!

Demos are packaged alongside the engine to introduce you to some sample script functions, which can also be used in your own games.

A wide range of scripts are already compatible with the engine. These range from Yanfly's scripts to Yami's side-view battlers. (Script compatibility support is currently limited but expanding every day to include all possible options.)