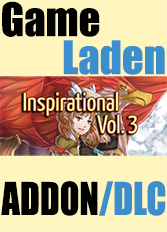 RPG Maker: Inspirational Vol. 3 (PC)
Inspirational Vol.3 explores emotional pieces, epic songs and modern staples!
The third volume of the Inspirational series delves into the ambient and intense world of emotion, including themes enhanced with female vocals. Then the music jumps into the intense world of epic themes, ranging from orchestral battles to elaborate villain themes and more. Lastly, there's a medley of modern themes - including perfect songs for swanky city life and modern combat.
Features:
12 Emotional Tracks

13 Epic Tracks

12 Modern Tracks

Large variety of instruments and sounds

Royalty free music to use in your commercial and non-commercial RPG/IG Maker projects