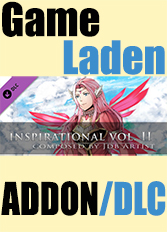 RPG Maker: Inspirational Vol. 2 (PC)
Inspirational Vol.2 adds evocative themes, dramatic tension and musical ambiances to your game!
The second volume of the Inspirational series focuses on modern synth tech/trance melodies and provides tracks for sciFi/fantasy, or steampunk projects.
This pack contains:
7 Adventure Tracks

6 Emotional Tracks

9 Modern Tracks

8 Action Tracks

7 Horror & Suspense Tracks

Royalty free music to use in your commercial and non-commercial RPG/IG Maker projects
Importing this resource pack is simple! Check out
our importing guide
.