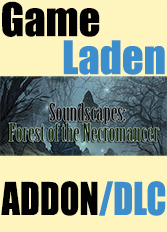 RPG Maker: Forest of the Necromancer Soundscapes (PC)
Master the atmosphere with this unique sound pack.
Soundscapes: Forest of the Necromancer is a collection of themes meant to play in the background of your project. They contain a variety of sound effects, ambient background sounds and occasional bursts of melody. Soundscapes can be used as replacement for music, or as complex background elements that add a layer of complexity to your BGMs.
This pack contains:
8 themes, broken into 15-minute increments

Covering a variety of moods and atmospheres

Can be used alone or in addition to other game music

Royalty free music to use in your commercial and non-commercial RPG/IG Maker projects