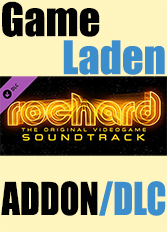 Rochard Soundtrack (PC)
The Official Soundtrack in both MP3 and FLAC formats, with music composed and arranged by Markus Captain Kaarlonen, including the song Grinder's Blues performed by Poets of the Fall, plus 2 additional jingles by Burt Kane.
Also includes the Digital Artbook, which contains concept art and renders from Rochard and bonus concept art for Rochard 2. The artbook is in PDF format.
Rochard - The Official Soundtrack
1. Grinder's Blues - Poets of the Fall

2. Rochard Main Theme - Markus Captain Kaarlonen

3. Skyrig HQ - Markus Captain Kaarlonen

4. The Fight - Markus Captain Kaarlonen

5. The Fall - Markus Captain Kaarlonen

6. Maximillian's Theme - Markus Captain Kaarlonen

7. Aliens & Indians - Markus Captain Kaarlonen

8. John's Theme (A Sharp Miner) - Markus Captain Kaarlonen

9. Space Debris (Spacesynth Remix) - Markus Captain Kaarlonen

10. Arizona Bossa Nova - Burt Kane

11. Sport Quarter - Burt Kane
The songs will be downloaded, in both formats, into your Rochard folder in your chosen Steam Library: ...steamapps\common\Rochard\Soundtrack
The Artbook can be found nearby at: ...steamapps\common\Rochard\Artbook