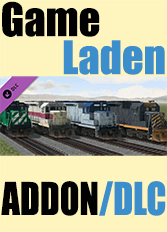 Railroad X : US Diesel Locomotives - Set 2 (PC)
US Diesel Locomotives - Set 2
This set contains 6 diesel locomotives in high detail, including sound and cabviews.
Beautifully and precisely modeled with high resolution textures these models enhance your collection for any US layout.
Because of license rights these models do not include the original names and logos of the railroad companies. These logos and names can be set-in by the user for private use.
Included models:
EMD - SD9 DRGW

EMD - GP7 OSR

EMD_GP7_RRC - Respondek Railroad Corporation

EMD - SD45 DRGW

GE - Dash8-40B UP

GE - Dash8-40B BNSF