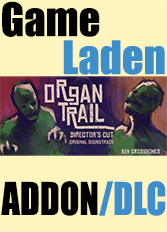 Organ Trail: Director's Cut - Soundtrack (PC)
Organ Trail: Director's Cut Original Soundtrack
22 tracks including 2 bonus tracks not used in the game.
Written and Produced by Ben Crossbones.
Artwork by Benn Marion.
You can find more music from Ben Crossbones here
http://bencrossbones.bandcamp.com/
.
The 320kbps mp3 files will be placed in your Organ Trail: Director's Cut folder in the Steam Directory: ...\Steam\SteamApps\common\OrganTrailDC (Right click Octodad Dadliest Catch in the Games list -> Properties ->Local Files -> Browse Local Files).