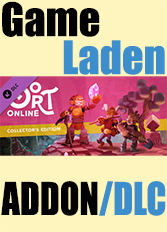 Oort Online - Collector's Edition Upgrade (PC)
This is the store page for the Oort Online Collector's Edition DLC, for more information about the game Oort Online click here.
Explore a vast universe of connected worlds. Build an empire with friends, and defend it against your enemies. Make your mark in the massively multiplayer world of Oort Online.
Whether you are a seasoned hunter, a weathered explorer, a shrewd trader or a natural born fighter, there is a place for you in the massive connected universe that makes up Oort Online. Watch the sunrise on one world before hunting down epic Titans on another. Explore caverns on your own or raid temples with your guild. Mine, trade or fight Protectors for resources and search for elusive Oort Stones. Build a shop and trade your treasures, or create a Portal and expand your reach in the universe of Oort Online.
Available today through Early Access, launching fully in late 2015.