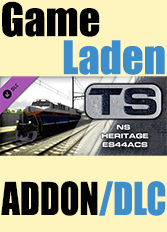 Norfolk Southern Heritage ES44ACs (PC)
2012 feierte Norfolk Southern ihr 30-jähriges Jubiläum und ehrte einige Meilensteine der eigenen Geschichte mittels Neubemalung von 20 Lokomotiven im 'Fallen Flag'-Design.
Seit den 20er Jahren des 19. Jahrhunderts wurden hunderte Eisenbahnunternehmen gegründet, migriert, reorganisiert und konsolidiert, um schließlich 1982 Teil von Norfork Southern zu werden. Jeder Anstrich wurde angepasst, um zur GE ES44AC und EMD SD70ACe zu passen und trotzdem seine eigene Herkunft noch so gut wie möglich zu erhalten. Die Lokomotiven mit den "geerbten" Anstrichen wurden im Juli 2012 der Öffentlichkeit präsentiert und sind nun im NS-Fahrplan zur täglichen Frachtbeförderung integriert.
Die General Electric ES44AC, die Bestandteil dieses Retropakets ist, war die erste Wechselstrom-Lokomotivenklasse, die Norfolk Southern kaufte, um sie den regulären langen Kohlezügen voranzustellen. Diese Lok ist zudem Teil von GEs "Evolution"-Serie, die sich dadurch auszeichnete weniger Rauch auszustoßen und dennoch 4400 Pferdestärke zu leisten, bei einer Höchstgeschwindigkeit von 75mph (~120 km/h).
Die in diesem Retropaket enhaltenen 'Fallen Flag'-Designs sind:
Conrail

Central of Georgia Railway

Interstate Railroad

Lehigh Valley Railroad

Monongahela Railway

Nickel Plate Road

Norfolk and Western Railway

Norfolk Southern Railway

Pennsylvania Railroad

Southern Railway
Desweiteren enthalten: Hopper Ballast Wagons, Van Autoparts Boxcars und Hopper Low Sided Gondolas, zusammen mit vier Quick Drive-Möglichkeiten für jede Lokomotive.
Jede Lokomotive in diesem Paket ist Quick Drive-fähig, was dem Spieler die Freiheit geben soll, die ES44AC auf jeder Quick Drive-fähigen Strecke für "Train Simulator" fahren zu können, solange diese über Steam erhältlich ist. Jedoch sind diese Szenarien NICHT Teil des Pakets.
Hauptmerkmale
General Electric ES44AC in 10 'Fallen Flag'-Anstrichen der Norfolk Southern

Blinkende Standlichter

Aktualisierte Lokomotivenmodelle mit mehr Details

Quick Drive-fähig

Hopper Ballast Wagons

Van Autoparts Boxcars

Hopper Low Sided Gondolas

Downloadgröße: 258 MB