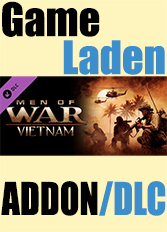 Men of War: Vietnam Special Edition Upgrade Pack (PC)
Dieser DLC aktualisiert Ihre Standardedition von Men of War: Vietnam zur Spezialedition. Beinhaltet sind 3 Mehrspielermaps und 5 Einzelspielerszenarien die auch im Co-op-Modus (für bis zu 4 Spieler) spielbar sind:
NVA Soldaten liefern sich mit US Truppen heftige Kämpfe um die Vorherrschaft in einem unbenannten Sektor nahe der kambodschanischen Grenze.
FVier Überlebende, Passagiere eines abgeschossenen US-Hubschrauber, versuchen aus dem Vietcong Gebiet zu entkommen.
Vietcong, die umzingelt wurden, verschanzen sich in einer zur Waffenfabrik umgebauten katholischen Kirche, um das letzte Gefecht gegen die heranrückende US Armee auszufechten.
Eine Gruppe Vietcong muss ein Gebiet, welches von ARVN und Green Berets bewacht wird, mit Messern und schallgedämpften Waffen infiltrieren.
er Kommandant des NVA Panzer Zuges entscheidet sich für einen umfassenden Angriff mit dem kühnen Ziel ein US Hauptquartier auszuschalten.