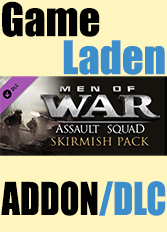 Men of War: Assault Squad - Skirmish Pack (PC)
Erhalten Sie einen kompletten Satz von 5 neuen Skirmish-Missionen, 1 für jede Fraktion, USA, Deutschland, Sowjetunion, Commonwealth, Japan.
Ziele der Missionen sind sehr unterschiedlich und bieten eine völlig neue Herausforderung zu den bereits bestehenden Aufgaben in Men of War: Assault Squad an. Ihre Aufgabe besteht darin, vier strategischen Positionen lange genug gegen Angriffswellen feindlicher Truppen zu verteidigen, um einen Gegenangriff starten zu können und schließlich den Gegner zu besiegen.
Skirmishes bietet zudem einen hohen Wiederspielwert, da sich der Feind jedes mal unterschiedlich gegen Sie offensiv positioniert. Und zudem können Spieler die Mission auf mit verschiedenen Schwierigkeitsgraden bewältigen, und jedes mal neuen KI -Einheiten begegnen. Diese neuen Missionen können von bis zu 8 Spielern kooperativ online oder im Einzelspielermodus gespielt werden.
Hauptmerkmale:
5 neue Verteidigungsbasen:


[USA] Philippinen

[Deutschland] Seelower Höhen (Seelow Heights)

[Großbritannien] Tobruk

[Sowjetunion] Kursk

[Japan] Präfektur Okinawa (Okinawa)