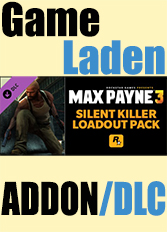 Max Payne 3: Silent Killer Loadout Pack (PC)
The Silent Killer Loadout Pack includes three unique elements to customize your loadout in Max Payne 3 Multiplayer — the devastatingly destructive Light Anti-Tank Weapon, the Slippery Character Burst to quickly escape a deadly firefight and the Listening Device Item that amplifies player hearing so you can hear enemies approaching you from a greater distance.

Note: Add-on content for Max Payne 3; If Rockstar Pass is purchased, do not purchase items individually, as you will be charged again. Regional age & location restrictions may apply to purchase or download.