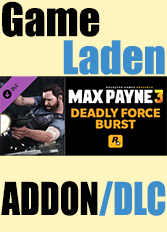 Max Payne 3: Deadly Force Burst (PC)
Equip the Deadly Force Burst in your loadout to get extra stopping power with higher damage bullets in Max Payne 3 multiplayer.
Note: Add-on content for Max Payne 3; If Rockstar Pass is purchased, do not purchase items individually, as you will be charged again. Regional age & location restrictions may apply to purchase or download.