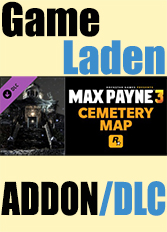 Max Payne 3: Cemetery Map (PC)
The final resting place of Max's young wife and daughter, the Cemetery Multiplayer Map represents the tragic past Max cannot forget. With a wintry New York City skyline, sniping positions amongst the monuments, destructible tombstones, circular fighting arenas in a rotunda garden and a looming mausoleum, Cemetery makes a fitting final home for your enemies.

Note: Add-on content for Max Payne 3; If Rockstar Pass is purchased, do not purchase items individually, as you will be charged again. Regional age & location restrictions may apply to purchase or download.