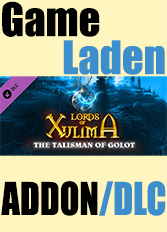 Lords of Xulima - The Talisman of Golot (PC)
The Talisman of Golot
With this extension for Lords of Xulima, you will start the adventure with a very special artifact: The Talisman of Golot. Known as "The Voice of Golot", this artifact not only can speak with you but also has the ability to aid you by granting wishes when you need it the most.
The Gifts of the Artifact
The artifact has a very special wisdom. He can guide you on your mission; speak with it whenever you find yourself lost in the huge continent of Xulima. Their special senses even can alert you when the terrible Cursed Hounds come for you. The Talisman can teleport you to a safe place and transform its energy into gold or food. It can purify curses or cure even the worst of diseases. It can even enlighten you with its knowledge, to improve your attributes and skills.
The Spheres of Power
There are 50 spheres of power hidden in Xulima. Find them to feed the Talisman with energy. This gentle artifact will be grateful to you, by granting your wishes.