La Tale - Gambler's Pack (PC)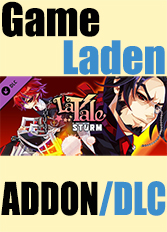 Today might be your lucky day, because you are about to receive 6 of our greatest boxes ever (some of these were discontinued before)! Will you be winning a rare pet? A valuable fashion set? Either way, you will be walking away with extremely useful items that will help you in-game! So why not try your luck today?!
BunBun Cookie x40
Gold Dart of Luck x40
Kazno's Coin x40
Boom Boom Box x40
Box of Box x40
Full Moon Cookie x40
Package Contents
Bun Bun Cookie - Rare pet, rare weapon coupon, and some cool fashion set coupons! Whoaaa~!

Gold Dart of Luck - A chance to get a rare pet or a highly valuable fashion set!

Kazno's Coin - Discontinued item that everyone wants for its useful items! You can open them up by purchasing Kazno's Vending Machine through NPC Ara in Elias City for ely.

Boom Boom Box - Rare pet and various useful items!

Box of Boxes - Yo I heard you like boxes so I put the boxes in a box so you can box while you box.

Full Moon Cookie - Discontinued item that everyone wants as well, for its useful items in-game! AND it's got a rare pet coupon! Very very desirable!