La Tale - Beginner Package (PC)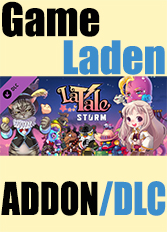 Get yourself ready to adventure through the world of La Tale with this Beginner Package! Pick a stylish outfit, expand your inventory, & get great buffs for your character. Plus, you'll have ten opportunities to win a prize from La Deck - it could be an exclusive pet, a powerful weapon, or something else entirely! This package will only be available for a limited time, so get yours today!
Package Contents
1x General Inventory Bag - Expand your inventory capacity & hold more equipment, items, & more

1x Toma's Fashion Coupon - Select a great fashion outfit & show your style to the world

1x Bundle of Love Coupon - Contains a variety of buffs to raise your experience gain, item drop rate, & more

10x Gold Dart of Luck - Each Gold Dart of Luck allows you to win a prize from La Deck in a game of chance
How to Redeem
To redeem your item package & receive your items, please follow these simple steps after purchasing:
Obtain the serial code for your item package by right-clicking La Tale in your Steam library, selecting 'View CD key', highlighting the package you wish to redeem, and selecting 'COPY KEY TO CLIPBOARD'

Launch the game, and log in with the character you wish to receive the item package

Open the Fashion Shop via the button at the bottom of the screen, and click the 'Charge Astros' button

Paste your item package keycode into the space provided, and click 'Redeem'

After successfully redeeming your key, get your items by talking to any Bank NPC (found in each town) & selecting the Gift Bundle option
Please note that it may take up to 10 minutes after redeeming your item package key for the items to be able via the bank NPCs.
About La Tale
Welcome to the world of La Tale! Be part of an exciting story that unfolds all around you, while choosing your own unique path!
La Tale is a free-to-play, massive multi-player, online role-playing game (MMORPG), with classic 2D side-scrolling action. The game features over 40 character classes, each with unique skills and weapons. There are near-endless character customization options, pets, crafting, guilds, and much more!
Journey across strange and beautiful lands, full of mystery, sorcery, swords, science, art, music, and much more. Uncover the tale of Iris Livier, and begin your tale now!
Key Features
Choose from over 40 classes

Unlock a wide range of skills to develop your playstyle

Battle huge bosses either solo or with others

Explore two giant worlds with secret areas

Customize your character's appearance with near-endless options

Raise pets with unique skills

Level up to Lv.200 while choosing your stat & skill progression

Join a guild & work together to increase bonuses

Battle other players in PvP & raise your ranking

Craft unique equipment, accessories, and more

Open you own shop to sell to other players

Use a controller or keyboard & mouse

Participate in fun events & win great prizes

Updated regularly (usually two updates per month!)