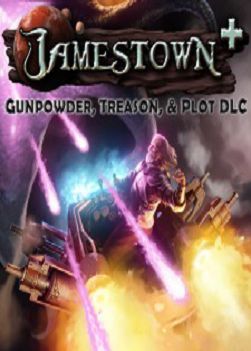 Jamestown Gunpowder DLC (PC)
Erinnern Sie sich an den 5. November...
Jamestown: Gunpowder, Treason, & Plot stellt drei neue Schiffe und ihre Piloten (einschließlich Guy Fawkes selbst!) vor, von denen jedes ein aufregendes und neues Gameplay für dieses preisgekrönte Co-op-Shoot-Em-Up mit sich bringt, Jamestown: Legend Of The Lost Colony.
Wird Ihr Team von Verschwörern, die Spanische Waffenfabrik zerstören und Gnade für ihre Verbrechen verdienen?
Haupt-Features:
The Ghost: Erstellen Sie eine Kopie von sich selbst, um ihren Rücken zu sehen während Sie Exkalibur selbst entfesseln.
Gunpowder: Häufen Sie 3 übergroße Granaten an, die im Kampf gestartet werden können - zünden Sie diese nach Belieben!
Treason: Laden Sie durch und feuern Sie eine Artillerie von funkgesteuerten Raketen auf Ihre Gegner ab!
Fortune: Rollen Sie die Würfel mit einem Schiff, dass einer der anderen sieben imitieren kann!